Overview
Sharp Sight is a specialized medical facility offering excellent eye care service with cutting-edge technology in the inpatient and outpatient departments along with provisions for emergency care.
The Eye Hospital is fully committed in its drive for delivering best quality treatment to patients suffering from ophthalmic problems and offers a wide range of curative options including Lasik surgeries, cataract, glaucoma, retinal and cornea treatment, and many more.
Sharp Sight has a panel of accomplished and highly qualified medical specialist, trained in various advanced procedures and having significant experience in their field of expertise.
The center boasts of having successfully performed 100,000 eye surgeries on a diversity of patients and is associated with numerous prominent government organizations and health insurance companies.
Services for International patients
Sharp Sight is a premier eye hospital with world-class facilities and contemporary infrastructure, providing some of the finest eye-care and vision-related procedures.
It's a preferred choice of hospital for patients traveling for overseas to receive treatment in India based on the high-quality services and advanced technologies in this hospital are available at an affordable price range.
The hospital provides an International Patient Coordinator to each patient to ensure that the international patients receive assistance in all kinds of visa, travel and treatment related queries throughout their journey.
Facilities for International patients
Consultation and cost estimation
Visa assistance
Complimentary transportation - pick-up/drop from the international airport
Assistance available at the airport
Language interpreters/translators
Global cuisine offering a spread of culinary choices
Provide local SIM card during the stay
Dedicated staff to assist the patient and attendants for the hospital stay
At A Glance
Languages spoken : English, Hindi
Established in

1998

Total of 20 doctors
Total of 2 beds
Accreditations

National Accreditation Board for Hospitals & Healthcare Providers (NABH)
National Accreditation Board for Hospitals & Healthcare Providers (NABH) is a constituent board of Quality Council of India, set up to establish and operate accreditation programme for healthcare organisations in India.
Procedures
Sharp Sight performs 43 different procedures. Click on a procedure name to see more details and to view doctors for that specialty.
---
Ophthalmology Doctor Directory
---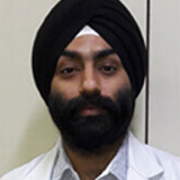 Dr Supreet Juneja works as a Senior Retina Consultant in Ophthalmology at Sharp Sight (Group of Eye Hospitals), New Delhi. He has completed his post graduation from S S Medical College Rewa; and fellowship in Vitreo Retina from Aravind Eye Institute, Madurai. Previously, he has worked at Venu Eye Institute, New Delhi and Centre for Sight, New Delhi.
Facilities
International Patients Lounge