10 Best IVF centres in India
There has been a rise in the demand of IVF procedures worldwide. Infertility problems are increasing globally, attributed to sedentary and unhealthy lifestyle choices. IVF is becoming one of the most sought after procedures for couples wanting to have a baby. The improved technology and success rate of IVF has increased chances of being pregnant for couple dealing with infertility issues such as blocked fallopian tubes, ovulation disorders, endometriosis, impaired sperm production and ovarian failure.
What is IVF?
In-Vitro Fertilization (IVF) is an Assisted Reproductive Technique that aims to help couples who can't conceive on their own. The method is usually considered when the non-invasive or minimally invasive methods such as fertility enhancing drugs and Intra Uterine Insemination (IUI) fail to work.
During an In Vitro Fertilization or IVF procedure, the fertilization of an egg with the sperm takes place in vitro, i.e. in an embryology laboratory, outside the human body. Once fertilization is complete, the doctor places the fertilized embryo into the uterus of the woman. The IVF procedure is a multiple step process in which a combination of medicines and surgical procedures are used to facilitate fertilization and implantation of the embryo (or embryos) in the uterus of the to-be-mother.
The Procedure for IVF Treatment typically involves following stages:
Consultation: Medical examinations, Ultrasound, Blood reports and Semen analysis report are analysed to figure out the infertility problem
Counselling for the couple
Initiation of IVF treatment: stimulate egg production (Ovulation induction/ Supra ovulation) with medications
Egg retrieval: 34 to 36 hours after administration of trigger injection
Semen sample is taken, analysed and the processed in the lab to ensure that the best sperm is used for insemination
Processed sperm are added to the eggs in a culture dish. The dish is then placed in the incubator to allow fertilization to take place
Incubation and development of embryos in a controlled environment (for up to 5 days)
Embryo is transferred to the uterus. In this procedure, a small drop of culture medium containing one or more embryos is transferred to the uterus using a thin catheter. This takes around 15 minutes.
Confirmation of pregnancy by blood tests (two weeks after embryo transfer)
Sometimes, the hormone stimulatory protocol needs to be altered for a patient in order to obtain the optimum results.
Over the years, India has become a ray of hope, and even success, to couples with infertility issues. With the use of sophisticated medical technology and skills of experienced doctors, Indian IVF centres have fulfilled this dream for thousands of couples from various countries and continues to do so.
How much does IVF cost in India?
The cost of IVF package in India depends on a number of factors, ranging from type of techniques involved, patient's fertility condition and requirement of additional treatments to the choice of hospital, doctor's experience, and length of stay. However, the overall cost for IVF treatment in India is relatively lower than several other countries, including the European countries. 
The IVF price for basic treatment may start as low as USD 2500 and can even rise up to USD 5000 or more, based on the additional tests, treatments or procedures required for best outcomes. ICSI treatment cost in India will add up to USD 2000 or more and Frozen Embryo Transfer procedure cost is about USD 1500 -2000, in addition to the basic IVF price in India.
How to select the best IVF centre in India?
The IVF procedure needs to be performed by a trained professional and in a well-established facility to have the best results. Therefore, it is important to choose only the best for your treatment. Following are a few points that can help you choose the best IVF centres in India:
Reliability of treatment at the IVF Clinics in India: Authenticity of the clinic or hospital is an important factor that you must keep in mind while selecting a hospital for your IVF treatment in India. This will not only increase the chances of a successful treatment but also help you have a good experience during the process. There are a number of registered and recognized IVF centres in Delhi, Mumbai, Bangalore, Chennai and other megacities in India that are known for their quality of medical care. Before making a decision, read about the hospital on the relevant websites as it may help you determine the validity of the hospital/clinic.
Advanced facilities and infrastructure: The recent developments of medical science have significantly improved the chances of successful pregnancies with in-vitro fertilization. You can search for the top IVF hospitals in India that are equipped with the latest technology for IVF and other infertility treatment methods. The latest diagnostic techniques for infertility investigation can help doctors find the root cause for the problem and design treatment accordingly.
Credentials of the chosen doctor: According to the National Guidelines for Accreditation, Supervision & Regulation of ART (Assisted Reproductive Technology) Clinics in India, treatment with artificial reproductive requires a coordinated effort from a multidisciplinary team including a gynaecologist, andrologist, IVF specialist, clinical embryologist and psychological counsellors. These doctors should be qualified and experienced in performing IVF procedure for all kinds of cases.

Check out the list of the best IVF doctors in India

Certifications and Accreditations: The accreditations and certifications from reputed bodies such as Joint Commission International (JCI) and National Accreditation Board for Hospitals and Healthcare Providers (NABH) marks the hospitals and healthcare clinics for their quality of patient care services. These certifications provide assurance for the standard of care and safety of the treatment.
Location of IVF clinic in India: IVF treatment is available at several hospitals and clinics in all the major cities of India. These cities are accessible via most international airlines from different countries. You can choose the hospital as per your convenience for the location. IVF centres in Delhi are renowned for their services globally and numerous couples from all over the world prefer to travel there for IVF treatment.
IVF Success rate in India: The success rate of IVF and artificial reproductive treatment in India is par excellence with international standards. You can check the success rates of a clinic, and number of IVF procedures performed and babies delivered at the clinic you are considering for your treatment.
Here is a list of top 10 IVF centres in India:
The hospital is a NABH accredited super specialized centre that provides expert care for women in all fields of medicine. The hospital is one of the best IVF centres in India and prides itself for performing more than 9500 IVF Cycles including OPU & ETS methods and over 2000 babies conceived through IVF.
Fortis La Femme has received many awards for its clinical excellence, including the most trusted hospital in Gynecology by Readers Digest 2018, the 'Women Health Brand' in 2018 by IHW and many more.
The hospital is equipped with the latest technology in the field of IVF, Obstetrics (Painless Labour), Gynaecology, General & Laparoscopic Surgery, Genetic & Foetal Medicine and more.
The Level III Neonatal Intensive Care Unit (NICU) at this hospital provides special medical services for critically ill babies who are less than 600 grams of birth weight and after 25 weeks gestation. The centre has facilities to air lift sick babies and has sucessfully saving many lives.
Nova IVI Fertility is one of the largest IVF centres in India with facilities established across all the major cities in the country.
The centre offers personalized Assisted Reproductive Technology for couples with Intrauterine Insemination (IUI), In Vitro Fertilisation (IVF), Intracytoplasmic Sperm Injection (ICSI), and advanced methods such as Magnetic Activated Sperm Sorting (MACS), Pre-genetic Testing (PGT), and Cryopreservation based on the particular needs for the couples.
Expert team of fertility specialists at the centre include the best embryologists in India as well as fertility counsellors to ensure all couples receive the best care during their fertility journey.
The IVF pregnancy success rate at Nova IVF Fertility centre is excellent and at par with international success rates.
Nova IVI offers the most sophisticated techniques for IVF treatment such as

Vitrification for preserving embryos and eggs
Embryoscope – one of the most used embryo-selection tool
Preimplantation genetic testing (PGT) for selection of the best embryos for transfer
Endometrial Receptivity Array (ERA) test to determine the capacity of the uterus to accept embryos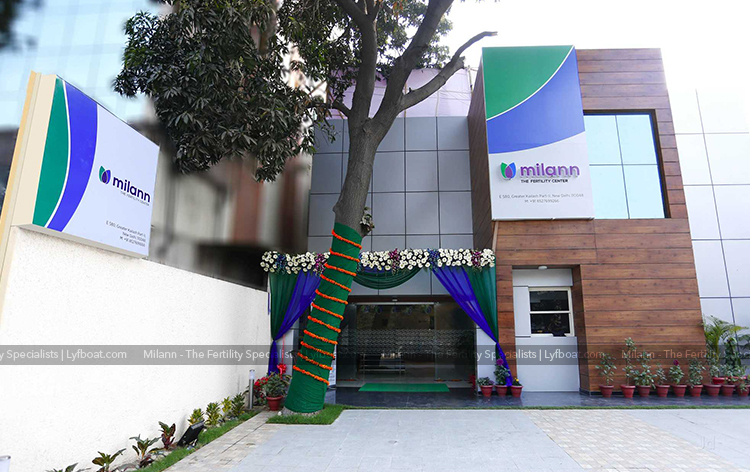 Milann – The Fertility Specialists is amongst the best infertility hospitals in India. It offers a wide range of services in the field of reproductive medicine, Gynecology & Endoscopy and Obstetrics & Pediatrics
It has received several awards including the India's Best Fertility & IVF Center (2016), The National Icon Award 2018-2019 for India's Most Trusted IVF Treatment Centre of the Year, No. 1 Fertility Centre in India Four – Time winner (2015, 2016, 2017 & 2019) by Time of India Health Survey and many more.
The centre is founded by a highly reputed, internationally trained IVF specialist, Dr. Kamini Rao, who is a prominent name in the speciality of Reproductive Medicine.
Milann uses the latest ART technologies such as Time Lapse, Single Embryo Transfer, PGD-M & PGD-A to provide couples with the most suitable treatment.
The team of fertility specialists at the centre includes some of the best IVF doctors in India who are experienced and trained at the top international institutions.
Artemis is a renowned super speciality hospital that offers a comprehensive list of medical care services across multiple specialities.
The Department of Reproductive Medicine & Infertility Treatment at Artemis Hospital provides treatment using an integrated and holistic approach. This includes use of reproductive medicine techniques and fertility programs along with psychological consultation.
The advanced In-Vitro fertilization methods including ICSI, TESA, IMSI are available at the department, supported by the latest Diagnostic & Interventional technologies.
A variety of special services are offered by the centre, including In Vitro Egg maturation, Pre-implantation genetic diagnosis, Assisted hatching before implantation.
The hospital has a team of highly skilled and experienced doctors with specialization in gynaecology & obstetrics and Assisted Reproductive Techniques.
Indraprastha Apollo Hospital is one of the largest hospitals of India's leading healthcare group – Apollo Heath Group.
The hospital offers the most advanced Assisted Reproduction (IVF) Unit and a lab equipped with next generation medical technology.
The experienced panel of fertility specialists include reputed embryologists, IVF specialists, counsellors and psychologists who provide personalized care to each patient.
Apollo's IVF unit offers a complete range of fertility services along with Endocrinology, radiology, Pathology and all other medical specialities.
The unit also offers a facility for IVF using Donor Oocytes for women who are either unable to produce eggs or their eggs fail to fertilize during the IVF cycle.
The hospital also offers other methods such as Replacement of donor embryos and surrogacy to patients.
Get Free Assistance for Best IVF Centre in India
Max Hospital, Saket is one of the leading IVF hospitals in India. Max caters to a significant number of domestic and international patients from all over the world.
Infertility treatment at Max hospital is focused on precision and success. The world-class facility and use of sophisticated technology ensures that the patients receive the best IVF treatment in India.
The highly skilled and qualified IVF specialists at the hospital provide holistic care to couples with a wide range of treatment options.
The team of specialists is backed by a trained clinical staff as well as counsellors who work closely with the couples during their treatment and guide them throughout the process.
BLK Super Speciality Hospital is one of the largest hospitals in Delhi. BLK offers the best IVF treatment at their state-of-art facility.
Fertility services provided to patients at BLK include, but are not limited to Investigations of Infertile couple, Fertility Enhancing Laparoscopic surgeries, IntraUterine Insemination (IUI), Intra-Cytoplasmic Sperm Injection (ICSI), Laser Hatching, and more.
Includes a team of fertility specialists, embryologists, gynaecologists and andrologists (male fertility specialists) along with holistic medicine experts, counsellors & psychiatrists.
The doctors at BLK are internationally trained professionals with expertise in treating a variety of fertility problems in males as well as females.
Columbia Asia Hospitals is a premier health care group in India that offers its complete range of services to domestic as well as international patients.
The hospital has a panel of highly experienced and qualified doctors that ensure a global benchmark of standard is reached and patients are delivered excellent quality of services.
One of the best IVF hospitals in Bangalore, Columbia Asia hospital has a well established facility for fertility treatment with advanced procedures such as In vitro Fertilization and Intra Cytoplasmic Sperm Injection (ICSI).
The latest diagnostic services are available at the hospital, including tubal testing such as Hystero-Contrast-Salpingo-Sonography (HyCoSy Scan) and Saline infusion sonography (SIS-for uterine cavity assessment) as well as Genetic testing and Immunological assessment.
Wockhardt Hospital North Mumbai is a renowned hospital that offers a wide range of services for couples who have difficulty getting pregnant.
The hospital aims to provide dedicated care with an integrated approach and a relaxing atmosphere to help patients with different kinds of infertility problems.
It is equipped with advanced technology for treatment as well laboratory tests to investigate and cure the problems related to fertility.
The services offered by the hospital include several types of ART methods such as intra cytoplasmic sperm injection (ICSI), in vitro fertilization and modified IVF techniques such as Zygote intrafallopian transfer (ZIFT) and Gamete intrafallopian transfer (GIFT).
A highly skilled team of IVF doctors work at Wockhardt hospital in combination with other specialists to design a personalized treatment plan for couples based on a detailed diagnosis of their cause of infertility.
One of the top ranking hospitals not only in Mumbai but all over India, Kokilaben Dhirubhai Ambani Hospital offers a number of services for couples with infertility problems.
The Centre for Reproductive Endocrinology and Fertility (CREF) at the hospital is a dedicated facility that offers specialized and expert care to patients with endocrine problems, infertility, and also fertility preservation for medical reasons.
The centre runs an advanced program for Reproductive Medicine that uses modern approaches and cutting-edge diagnostic and therapeutic techniques for management of endocrine disorders and infertility.
Patients at CREF are treated with integrative approach in addition to medical therapies, such as with Medical Acupuncture and Mind-Body Medicine. These procedures along with infertility treatment help improve pregnancy rates or individually to treat infertility and other related to conditions.
The well-established laboratory and radiology department provide excellent diagnostic services with a complete range of tests.
The centre has a full-time panel of consultants including Reproductive Endocrinologist and Infertility specialist, IVF coordinator, embryologist, speciality trained nurses to provide holistic care couples with infertility issues.
Why international patients chose to have IVF treatment in India?
India is one of the most sought out destinations for all possible medical treatments, including advanced methods such as In Vitro Fertilization. International couples suffering from infertility prefer to travel to India for their IVF treatment. The standard of medical care and availability of some of the world's latest medical technology at the IVF centres in India are the prime reason for India's popularity in medical tourism.
Another major factor is the low IVF treatment cost in India which makes it possible for parents of varying economical and social backgrounds to get treatment here. As IVF treatment is not covered under medical insurance, international patients can save a good amount of money if they undergo treatment in India in comparison to other countries, especially in the west.
The high success rates of IVF treatment and transparency of the system provide patients assurance for the safety and high standard of patient care.
Lyfboat is a NABH accredited facility that aims to help patients from overseas receive the best possible treatment in India and other top medical tourism destinations. We strive to get the most reliable and discounted quotes from the best hospitals with a complete range of special services for international patients.
You can send us your query at care@lyfboat.com to know more about the treatment, top hospitals and IVF process cost in India. We will get back to you with a detailed report from the acclaimed experts in the field of medical services.
Who can benefit from IVF treatment?
Some common causes of infertility for which IVF can be recommended are:
Infertility related to advanced maternal age or Age-related infertility: It is the most common cause of inability to get pregnant for many women in the age of late thirties or forties. This is mainly due to decline in the egg quality with increasing age, and the chances of conceiving normally are fewer. In such conditions, IVF might be an effective option for several women.
Multiple miscarriages or loss of pregnancy: It could be due to some structural defects or infections. IVF can improve the chances of successful embryo implantation and growth, resulting in a successful pregnancy.
Abnormalities of fallopian tube: A prior history of infection can cause damage to the fallopian tube leading to infertility. IVF allows doctors to bypass the involvement of fallopian tubes to attain a healthy pregnancy.
Male infertility problems: Infertility in males can be due to many reasons, including the decreased sperm count or low-quality sperms. In such cases, techniques such as  esticular sperm extraction (TESE) is an option, in which a small incision is made to extract a single sperm from the testis. The sperm is then injected directly into a mature egg through intracytoplasmic sperm injections (ICSI). This is known as ICSI-IVF method.
Endometriosis and cyst related infertility: An abnormal growth of the endometrial lining outside the uterus is known as Endometriosis. This condition reduces the possibility of conceiving naturally. There are certain medical procedures that can be used be treated endometriosis, including surgery and non-invasive methods. After these treatment, a patient may need IVF to have a successful pregnancy. Read more about Endometriosis treatment in India.
Reduced number of ovaries: The ovarian reserves in women may deplete at any age, but more often occurs in older women. IVF process can be used to stimulate the development of healthy ovum or eggs which may lead to a successful pregnancy.
What are the advanced Assisted reproductive techniques (ART) offered by Indian IVF hospitals?
Following are some of the fertility procedures offered by the top IVF centres in India:
Ovulation Induction
In Vitro Fertilization (IVF)
Intracytoplasmic sperm injection (ICSI)
Laser Assisted Hatching
Sperm Retrieval: Percutaneous Epididymal Sperm Aspiration (PESA), Microsurgical Epididymal Sperm Aspiration (MESA), Testicular sperm extraction (TESE/TESA)
Embryo Freezing and Sperm Freezing
Reproductive Surgery: Laparoscopy, Hysteroscopy, Male Reproductive Surgery
Donor Program
Sperm Donor
Egg Donor Program and Surrogacy Program
Endometrial receptivity array (ERA) testing 
Preimplantation genetic diagnosis/Preimplantation genetic screening (PGD & PGS) Screening
Frequently Asked Questions (FAQs)
Is the IVF procedure painful?
IVF procedure includes several steps, some can be uncomfortable to the patients. However, the level of pain is subjective and varies for different individuals. The starting stage of IVF is preparing ovaries and pituitary glands, in which several oral medications and injections are administered to the woman, and it can be uncomfortable.
During the egg retrieval stage, the woman is sedated and later given pain medication, so she will not feel anything. However, after the procedure, patients may experience soreness, cramping, or a feeling of fullness.
Embryo transfer is done using a small catheter to transfer the eggs into the uterine cavity. Although this is a painless procedure, it may seem scary to many women and therefore a mild sedative may be given for overall comfort.
How many times can I undergo IVF treatment?
This is determined on the basis of several factors such as:
Medical profile of patient
Female partner's age
Patient's response to earlier IVF cycle
Financial status is also a consideration as charges increase with the number of IVF cycles. Mostly, couples are eligible for 3-4 attempts but it is also important to keep in mind that any medical procedure has its risks. However, the overall rate of surgical complications and side-effects during egg collection are minimal.
How long does the entire IVF procedure last?
The time duration for an IVF procedure may vary depending on the type of protocol followed- long or short. The short IVF protocol starts within the first 3 days of female's menstrual cycle and usually takes 2 weeks or more. Whereas, the long protocol or conventional method starts after 21 days from the previous cycle and has a longer duration – 4 to 5 weeks.
The short protocol is generally recommended for women who have Polycystic ovarian syndrome (PCOS) as it helps reduce the risk of ovarian hyperstimulation (a possible side effect of IVF).
How is IVF different from ICSI?
Both are in vitro fertilization methods that differ on the basis of method of fertilization in the lab.
During an IVF procedure, the sperms and the egg are put together in a culture dish and allowed to fertilize. This approach is similar to the natural form of fertilization. IVF is used when sperm parameters are within the normal range.
Intra cytoplasmic sperm injection (ICSI) is mainly for Male fertility factor. In this, each egg is injected with the sperm, using a fine needle. It is recommended when the sperms parameters are not good – less count, motility, morphology.
What are the risks associated with IVF?
Some risks associated with IVF include:
Hyper-stimulation Syndrome: The ovaries can swell due to the use of injectable fertility drugs. This can be painful and may make the patient feel nauseous, have abdominal pain, vomiting and other problems.
Affects birth: There are chances that the baby might be born prematurely or have a low birth weight that may lead to certain birth defects.
Ectopic pregnancy: The chances of experiencing an ectopic pregnancy increases with IVF. This means that the embryo may implant itself in the fallopian tube which may result in vaginal bleeding, pain in the stomach, or dark vaginal discharge.
Miscarriage: Older women are more likely to experience miscarriages because age is a major factor in IVF success. The success rate decreases as the age increases.
Does the IVF procedure increase the chances of having twins or triplets?
IVF does guarantee that the patient will conceive multiple babies after the transfer of embryo. The doctor usually transfers more than one embryo at a time in an IVF cycle to help achieve better chances of success. This could result in multiple pregnancies but there is no surety for this.
How long will I need to stay in the hospital for the procedure?
The patient does not need to be hospitalized for an IVF procedure. It is performed as an outpatient procedure for which regular visits with the doctor for a couple of hours or more are required. Sometimes, the female partner has to stay for a few hours after embryo transfer
Typically, a normal IVF cycle lasts for around 18 – 20 days but it can vary from case to case.
What are the post treatment follow-ups for?
A positive pregnancy test is just another step in the whole IVF process. After two weeks from the implantation, the doctor will analyse the hormone level in the blood to confirm the pregnancy. The fertility team will monitor the pregnancy for 8 -10 weeks and then transfer the care to a regular Gynaecologist & Obstetrician.