8 Best Spine Surgery Hospitals in India
Spine surgery is a treatment option for several kinds of disease and disorders of spine and back pain. These surgeries are generally complex procedures as the spine is one of the most critical and sensitive parts of our body.
India has been in the limelight for medical travel for several years, catering to thousands of patients from different parts of the world every year. The quality of success rate of spinal surgeries is at par with, if not surpassing, the best hospitals in the world.
The advanced healthcare facilities in the Indian hospitals and the expertise of spine surgeons are the prime reason behind the success. In addition to these benefits, the low-cost spine surgery in India no compromise of the clinical standards is another important reason for its popularity at a global level. 
Spine surgeons in India are pioneers in the use of high-end technology for surgery and have undergone extensive advanced courses. They are skilled in treating all kinds of spinal disorders, cancers, deformities and work with a team of experts for pain management and physiotherapy.
The hospitals are well-established institutions for superlative quality spinal care with an integrated approach from neurosciences and orthopedics. The top spine surgery hospitals in India have the latest techniques including minimally invasive and robotic surgery systems to provide first-rated care to the patients.
These technologies allow patients to recover faster, have shorter hospital stays and experience fewer post-operative problems. A patient can expect a complete range of noninvasive as well as surgical treatment and management options for treating back pain and spinal disorders. 
To get an instant appointment at the best spine hospitals in India, share your query with us or contact us at care@lyfboat.com. We will respond at the earliest with a detailed treatment plan and comparative cost analysis. Our team will guide you throughout the process, from traveling, visa processes, to arranging appointments and accommodation.
Connect with Experts & Get a Free Personalized Quote for Spine Surgery in India
How much does spine surgery cost in India?
The cost of spine surgery in India ranges from USD 3500 to USD 8000, depending on a number of treatment-related and other factors. The treatment package will be determined on the basis of the diagnosis, patient's overall health, type of surgery, and technique recommended for treatment.
Spine Surgery Cost in India
Type of Spine Surgery
Procedure Cost
Endoscopic Discectomy
Starting from $5,500
Lumbar Fusion
Starting from $8,500
Nucleoplasty
Starting from $7,000
Laminectomy
Starting from $5,000
Balloon Kyphoplasty
Starting from $7,500

The cost varies for different types of surgeries such as Endoscopic Discectomy cost in India starts from USD 5500 and Kyphoplasty/Vertebroplasty cost up to USD 7500. The cost of spinal fusion surgery in India starts from USD 7000 but may go up depending on the advanced technique used. However, this cost may vary based on many factors, including:
Choice of hospitals: The cost of a spine treatment package in India may vary for different hospitals, depending on the location and accreditations of the hospital.
Surgeon's experience and qualifications: The surgical fees are variable for doctors depending on their years of experience in this field and their credentials as well as institutions they have obtained their degrees/fellowships from.
The technique used: Minimally invasive technology is an advanced surgical technique that has many benefits. The medical team will determine whether a patient is eligible for minimal access or robotic surgery for treatment of their conditions.
Length of stay in the hospital and India: This will depend on the type of surgery performed and the technology involved. The package with room charges will be given according to the number of days of hospital stay required. After discharge, the patient and attendant may have to stay in India for some time and the per-day cost of guest house or hotel will vary depending on the type and location.
Room category: There are various kinds of rooms available at the hospital: single, twin-sharing, triple-sharing, deluxe, or others.
Conditions that may require Spine surgery:
Scoliosis: It is a neuromuscular condition that usually affects children of 10 to 14 years. Scoliosis is a spinal deformity that alters the curvature of the spine. The bone ailment caused by a three-dimensional change in the alignment of the spine can occur at different points of the Spine and be of varying degrees, such as 15 degrees or more than 50 degrees.
Degenerative Disc Disease – This is the most common reason for neck pain and low back pain. Generally, it is caused due to wear and tear of a spinal disc in the vertebrae column. The degeneration of these discs can cause numbness, extreme and persistent pain in the legs or arms. Although it is often related to the natural aging process, it can affect younger people also due to injury or other factors. 
Herniated Disc – As the discs in the spinal column start degenerating, the soft portion located in the center of the disc may herniate or rupture, causing Disc Herniation.
Kyphosis – This spinal deformity can manifest at any age and is prevalent in both men or women. It typically affects the upper back, affecting the cervical spine region or the lumbar spine region. There are several forms of this complex condition, including Congenital Kyphosis, Osteoporosis-related Kyphosis, Degenerative Kyphosis, Kyphosis, Postural Kyphosis, Neuromuscular Kyphosis, Nutritional Traumatic Kyphosis and a few others.
Spondylolisthesis – In this condition, the bone in the vertebra slides forward and moves over the bone below it. Spondylolisthesis often occurs in the lower spine – known as the lumbosacral area. In some cases, it can lead to pressure or compression of the spinal cord or the nerve roots as they get squeezed. This results in a variety of symptoms including severe back pain, numbness, or weakness in one or both legs. Also, in some rare cases, the patient may lose control over his or her bladder or bowels due to this condition.
List of 8 Best Spine Surgery Hospitals in India
|   | Hospital | Rating |
| --- | --- | --- |
| 1 | Indraprastha Apollo Hospital, Delhi | 4.9 |
| 2 | Medanta – The Medicity, Gurgaon | 4.9 |
| 3 | Max Super Specialty Hospital, Delhi | 4.9 |
| 4 | Indian Spinal Injuries Centre | 4.8 |
| 5 | Fortis Memorial Research Institute, Gurgaon | 4.8 |
| 6 | BLK Super Specialty Hospital | 4.8 |
| 7 | Kokilaben Dhirubhai Ambani Hospital, Mumbai | 4.7 |
| 8 | BGS Gleneagles Hospital, Bangalore | 4.7 |
Sarita Vihar, Delhi Mathura Road, New Delhi – 110076
Apollo Group is one of India's largest and foremost healthcare providers in India, and Indraprastha Apollo is one of the main hospitals of the group.
The department of Spine surgery at the Hospital is considered one of the top facilities for all kinds of spine surgery in India that holds credit for conduction the maximum number of spinal deformity corrections in the private health care sector.
The Apollo Hospital Spine Surgery Center have many achievements including performing the first lumbar disc replacement in the country, and several cervical disc replacements and lumbar disc replacements.
The hospital is a pioneer in advanced spinal procedures such as Minimally Invasive Spine Surgery (MISS), and complex spinal reconstructions. The centre is globally renowned for complex deformity surgeries and revision spine surgery.
Apollo hospital group is the first in India to introduce 3rd generation spinal implants and the first to conduct a lumbar disc replacement in India.
The team of spine specialists at the hospital have designed anterior stabilization spinal implant which gain FDA approval and is currently being used throughout the world.
The spine surgical team & specialists include Dr. Sudhir Tyagi who has a vast background in performing complex spinal procedures.
CH Baktawar Singh Road, Sector 38, Gurugram, Haryana – 122001
Medanta is a leading hospital in North India region, offering a wide range of services across multiple medical specialities.
The Institute of Neurosciences at Medanta is equipped with the latest surgical instruments and has a dedicated team of doctors. The speciality institute focuses on delivering a complete care to patients with brain and spine disorders.
A team of highly qualified and dedicated spine specialists, supported by a trained nursing and paramedical staff provide critical care to trauma and spine injuries patients.
The institute offers treatment facilities for brain and spinal tumours, spinal disorders, lumbar canal stenosis, degenerative disc disease, intradural and extradural spinal tumour, spinal injury due to fall or trauma, and infections such as TB in spine.
Other services such as treatment of Spinal Tumour, Degenerative disc diseases, Brachial plexus injuries, Scoliosis, and Spinal Deformities are offered by Medanta Institute Of Musculoskeletal Disorders and Orthopaedics.
Dr Sudhir Dubey is the Chairman of the Institute of Neurosciences and is a pioneer in Endoscopic Portal and Minimal Invasive Neurosurgery, Skull Base and Spine Surgery.
Press Enclave Road, Mandir Marg, Saket, New Delhi – 110017
Max Super Speciality Hospital is a Joint Commission Internation (JCI) accredited tertiary medical care service provider.
It is one of the best spine hospitals in Delhi, having a specialized Institute of Neurosciences for providing expert care to patients with neurological and spine conditions.
The team of specialists at Max Hospital includes highly skilled and experienced experts in treating diseases such as spinal and brain tumours, spinal degenerative diseases, congenital anomalies of spine and brain, and neurovascular diseases/trauma of spine and brain.
The hospital has specialized units for Minimally Invasive Spine Surgery Centre and Stroke Centre. The Neurosciences department is a centre of excellence equipped with advanced technology such as Neuro Navigation, Stereotaxy, Microscopic Surgery, Endoscopic surgery, and special clinics.
Max hospitals offers Disc Replacement Surgery, Endoscopy Spine surgery. Minimal Access Spine Surgery or Endoscopic/keyhole Spine surgery, besides conventional surgical approaches.
Vasant Kunj Marg, Opp Vasant Valley School, , IAA Colony, Sector C, Vasant Kunj , New Delhi, DL, India, 110070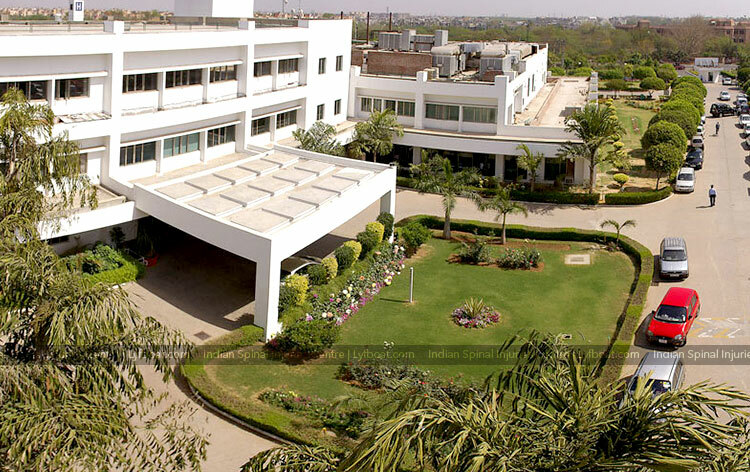 Indian Spinal Injuries Centre (ISCI) is a top spine surgery hospital in India that offers spine, orthopaedic and other medical services.
The hospital is an integrated medical facility for medical management, rehabilitation, research and training.
ISCI has a capacity of 178 beds, and a state-of-the-art infrastructure with multiple intensive care units, operation theatres and high-end diagnostic, backed by 24 hour ambulance and emergency facilities.
The hospital claims to be the first hospital in India, and after the USA, to perform spine surgery using advanced robotic technology.
Indian Spinal Injuries Centre has a well-established rehabilitation department, comprising one of the largest teams of therapists and specialists. The department offers a complete range of facilities including physiotherapy, occupational therapy and group activities for patients to help them recover and get back to normal lives as soon as possible. It also offers vocational training which allows patients to gain confidence and hop of maintaining their households in a specific vocational area.
The advanced procedure offered by the hospital include minimal reconstructive techniques for prolapsed disc excision/decompression and cementing, such as kypho and vertebroplasty, and fixation of vertebral bodies. The hospital also focuses on the latest evidence-based treatment including minimal invasive surgery.
Opposite HUDA City Centre, Sector 44, Gurugram, Haryana – 122002
Fortis Memorial Research Institute, being one of the largest medical care facilities in North India, offers a comprehensive range of services for domestic and international patients.
The hospital combines innovation and excellence, with the expert skills of the best spine surgeons in the Delhi and Gurgaon.
There are a number of spinal services for both adult and paediatric patients offered by the Department of Neurosurgery and Department of Bone disorders.
The neuro and spine surgery experts at the hospital deliver high-quality of clinical care with an aim to use minimally invasive techniques whenever possible.
The diagnostic and imaging centres of the hospital are fully equipped with all the latest instruments such as Gamma Camera with SPECT (Single photon emission computed tomography), 3.0 Tesla MRI, Interventional Radiology Suite (Cath Lab), Cavitron Ultrasonic Aspirator (CUSA), ZEISS OPMI Pentero Microscope, IMRIS intraoperative imaging and Leksel stereotactic system.
The hospital has some of the best spine specialists in India, including Dr. Rana Patir and Dr. Sandeep Vaishya.
Connect with Experts & Get a Free Personalized Quote for Spine Surgery in India
Pusa Rd, Radha Soami Satsang, Rajendra Place, New Delhi, Delhi 110005
BLK Super Speciality Hospital is a premier medical centre that ranks amongst the top spine hospitals in Delhi.
The Centre for Orthopaedics Spine Surgery at BLK Super Speciality Hospital is a dedicated facility for treatment of various kinds of bone and spinal disorders.
The unit offers treatment with Minimally Invasive Techniques such as Minimal Access Spinal Surgery, Spine Fusion, and Microscopic /Endoscopic Disc Surgery.
The team of neurosurgeons and orthopedic surgeons specializing in spinal procedures deliver complete and effective clinical care to the patients using medical and surgical interventions.
The services for spinal treatment offered by the centre at BLLK hospital include Minimal Invasive Spine Surgery For Disc Problems, including Endoscopic, Microscopic, Microtubular Key Hole approaches. Other commonly performed procedures are Scoliosis, Kyphosis Correction Surgeries, Spinal Deformity correction, treatment of Spinal Tuberculosis, surgery for spinal bony tumour, Vertebroplasty, Kyphoplasty For Spinal Fractures
Some of the most sophisticated surgical systems – Robotic / Navigation Guided Spine Surgery are also available at this hospital.
The team at the hospital includes Dr. Puneet Girdhar as the Senior Director of the Spine Surgery Department.
Rao Saheb Achutrao Patwardhan Marg, Four Bunglows, Andheri (West), Mumbai – 400053
Kokilaben Dhirubai Ambani Hospital is one of the largest healthcare centres in Mumbai that offers multiple super speciality services for various branches of medicine.
The hospital holds credit for performing over 2000 successful surgeries, making it one of the best spine hospitals in Mumbai.
Kokilaben hospital has 750 beds, multiple intensive care units, modular operation theaters and recovery rooms.
The team of spine surgeons of this hospital have obtained their training and fellowships from the top national and international institutes. They are proficient in treatment of spinal disorders such as spinal tumors, minimally invasive spine surgeries, and spinal dysraphism.
The centre for bone & Joint at Kokilaben hospital is an integrated facility for comprehensive services and treatment for various kinds of disease of bone and spine.
It has conducted over 1864 Spine Surgeries, including Endoscopic Spinal Surgery and Minimally-Invasive Spine Surgery, treatment of Spine Tumours and Spinal Dysraphism.
67, Uttarahalli Main Rd, Sunkalpalya, Kengeri, Bengaluru, Karnataka 560060
Gleneagles Global is India's leading healthcare group with top-rated hospitals across various major cities, such as Mumbai, Bangalore, Chennai and Hyderabad.
The Global Spine Institute provides advanced medical and surgical intervention for diseases of the spine and chronic back pain.
The Institute is equipped with the latest diagnostic technology, advanced surgical techniques, and evidence based therapies, to deliver a complete and effective solution based on patient's needs.
The institute offers a holistic spine care with surgery and complete rehabilitation including physical and occupational therapy. An individualized treatment plan is designed for each patient, on the basis of their diagnosis, personal preference, and lifestyle choices, as well as professional requirements.
Advanced facilities for spine surgery include minimal access surgery, endoscopic surgery and several other new-age techniques.
Gleneagles Global Hospitals is considered to be one of the best cervical spine surgery hospital in India with high-end therapeutic facilities.
The hospital is staffed with the top spine surgeons in India, supported by a team of dedicated medical and nursing staff. With their experience and expertise, patients can expect personalized care and comfort.