5 Best Hair Transplant Clinics in Turkey
A receding hairline can be distressing for people of all ages and gender. Hair makes an essential part of our aesthetic appeal, and we all spend a significant amount of time as well as money on haircare. The development of hair follicles starts in the foetus and goes on throughout a person's life.
Although hair shedding is normal, and we all shed a few strands every day, a receding hairline could be a source of worry. It may start with hair thinning, and over time the excess loss of hair can lead to balding. Many genetic and environmental factors have been associated with premature hair loss.
There are several remedies, medicines and appliances in the market today that cater to people having hair loss. Many people visit medical experts when they feel their hair has become thin, shed more than normal while combing and bathing, and the front hairline recedes.
Despite all the products in the market, hair transplantation is the most effective and long-term solution for hair loss. This hair restoration procedure involves the transfer of strong, good-quality hair from a donor site to the recipient site, which is the area where the hair loss is maximum.
There are various kinds of hair restoration techniques that can be used based on the person's personal needs, hair quality/density, requirements and other factors.
The hair transplant specialists will thoroughly evaluate the hair condition during the consultation and recommend a suitable procedure. Recently, procedures such as hair mesotherapy are also showing good results for the selected patients.
Mesotherapy can be combined with PRP. Platelet-rich plasma (PRP) is another kind of procedure that promotes the re-growth of hair. In this, the patient's blood is taken, which undergoes a special process to form a solution that is injected into the bald area. This solution nourishes the hair follicles and stimulates the re-growth of hair.
The two main procedures that are generally suggested by the doctor are FUE and FUT. Currently, Follicular Unit Extraction (FUE) is the most commonly performed hair transplantation technique. This is mainly because Follicular Unit Transfer (FUT) results in scar formation and requires stitching while FUE does not.
The FUE method can further be of two types Conventional and No Shave, depending on whether the recipient area is shaved or not. FUE technique can be combined with other methods such as PRP and/or hair mesotherapy.
Why prefer hair transplantation in Turkey?
Turkey has become one of the most preferred destinations for aesthetic treatments, including hair transplantation and cosmetic procedures. The widespread clinics and hospitals in the country offer a broad range of options for hair restoration techniques.
Turkey is located in between two continents Asia and Europe, receives a large influx of patients from countries on both continents.
Not only, people from the Middle East and Africa also seek high-quality treatment at the best hair transplant hospitals in Turkey. These hospitals are world-class healthcare centres with advanced infrastructure and a highly qualified team of doctors.
These hospitals have special International Patient departments that cater to people travelling from abroad for their treatment. There are a number of factors that make the hair transplant in Turkey popular, including:
Accredited hospitals: The top hair transplant clinic in Turkey are certified by internationally recognized organizations for their excellence in clinical services. These hospitals fulfill the global standard for safety and quality of treatment.
Well-connected cities: The major cities of Turkey are connected to international airports that receive all the main airlines of the world. These cities, such as Istanbul, Konya, Florya, Anatolia, Ankara and others have well-established transportation systems, with roads, railway and domestic airlines.
Experienced and trained doctors: The best hair transplant centre in Turkey have a team of skilled specialist with years of experience in this field.
International patient services: Understanding the specific needs of the international patient, many hospitals have a separate department to look after the people travelling from abroad for their treatment.
Use of advanced technology: The hospitals are equipped with the most updated hair transplant technology to provide the most effective solutions to the patient.
Lower cost: Turkey hair transplant clinics offer low-cost hair transplant packages which are very economical in comparison to the cost of the same procedure in European countries.
Turkey is a beautiful country with a rich centuries-old cultural heritage. The country is a much sought after tourist destination and offers a plethora of travel attractions to people. Many international patients combine their treatment time with a vacation to enjoy the maximum benefits during their travel.
Here are Top 5 Hair Transplant Clinics in Turkey: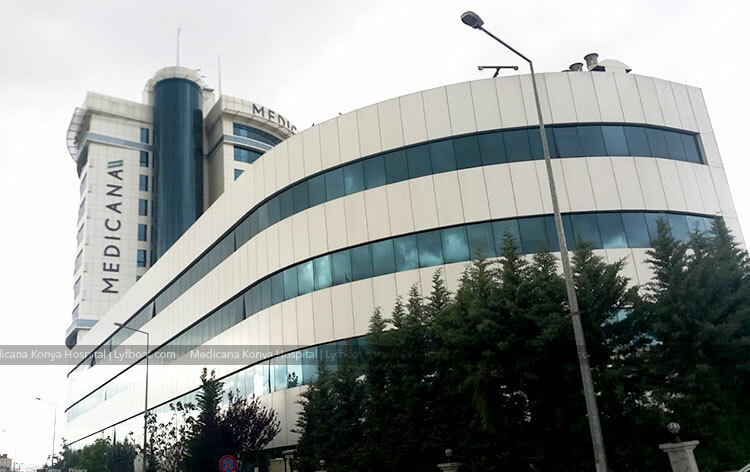 Medicana Konya Hospital is a highly recognized medical centre and is an establishment of one of Turkey's most reputed healthcare providers, Medicana Group.
The Medicana Hospital in Konya is known to be the largest (encompassing 35.000 square meters of area) and most wide-ranging medical facility in Central Anatolia.
Medicana Hospitals offer hair transplantation services to domestic as well as international patients at its high-tech centre.
Known to be a premier hospital for health tourism in Turkey, the hospital provide a comprehensive range of facilities for international patients. Medicana Hospitals understand the needs of the patients travelling from different countries for their treatment and provide high-quality clinical care with personalized approach.
Their basic package includes a number of services: Medical Procedure, First consultation and Pre-operative instructions, local anesthesia, postoperative inspection and medications.
The hospital offers FUE hair transplantation method with guaranteed Maximum Graft transplantation, Micromotor grafts extraction and other hair restoration techniques.
The facilities at Medicana Hospital includes a dedicated Hair Transplantation Room Usage for patient and their family. The hospital helps with accommodation including night stay at 4-5 Stars Hotel, transportation for all transfers between the airport, hospital and hotel.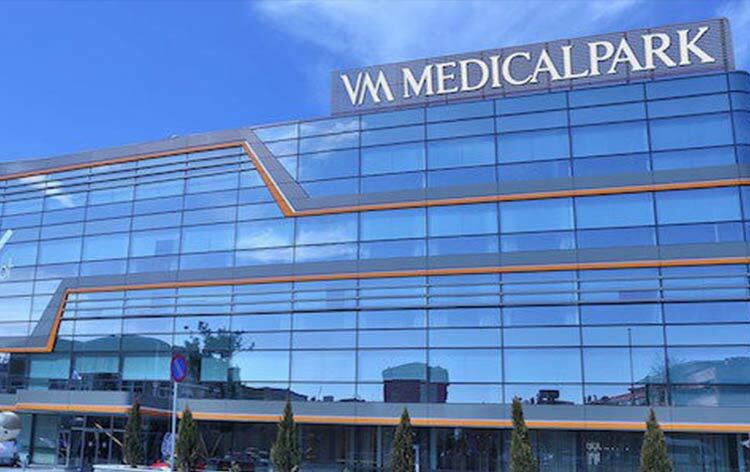 The MLP Care Group is a Joint Commission International (JCI) certified healthcare provider that has Health Industry giants such as Medical Park, Liv Hospital and VM Medical Park under it.
The VM Medical Park hospitals are high-standard medical centres in Istanbul and varius other cities in the country, including Istanbul Aydin University VM Medical Park Florya Hospital, VM Medical Park Anatalya Hospital and many others.
The hair transplant clinics associated with university hospitals and other medical centres offer a complete package for hair transplantation.
The services offered by them include FUE, FUT, DHI (Direct Hair Implantaion) and other techniques for treating different hair loss problems.
The hospital caters to international patients on a regular basis and follows global healthcare standard to ensure safe and effective treatment.
VM Medical Park Hospital is highly reputed when it comes to the quality of patient care services and facilities. The team of specialists at the hospital are committed to providing superior standard treatment to patients, keeping in mind their specific needs. The treatment plans are customized to suit patient preference and expected outcomes of the procedure.
Ulus Ahmet Adnan Saygun cad, Canan Sk., 34340 Beikta, Istanbul, Turkey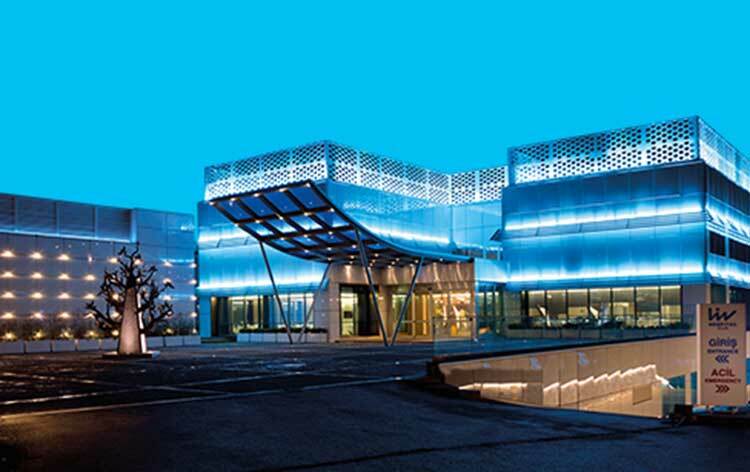 Liv Hospital in Ulus, Istanbul, is an ISO certified and JCI accredited hospital that offers superlative clinical care services to the patients.
The hospital is one of the most renowned health care institutions in region and is caught after by international patients for its excellent standards.
A team of highly experienced medical professionals at Liv hospital ensures effective and complete treatment of the patients following international norms.
LIV Hospital offers comprehensive services for Hair transplantation, based on detailed medical evaluation by the experts. This is done as per the HR Systems Criteria, which combines all conditions that must be followed for a successful hair transplantation. This Criteria allow the hair transplant specialists at Liv to transfer the maximum number of grafts rapidly.
Other services offers at LIV Hospital for hair transplantation includes PRP, Mesotherapy and CT therapy. These techniques are carried out under the expertise of experienced doctors and hair transplantation doctors in Turkey.
The hospital offers a broad range of facilities including medical treatment of hair loss with home care remedies as well as clinical applications. The experts at Liv produce professional solutions for hair transplantation.
Connect with Experts & Get a Free Personalized Quote from Top Hair Transplant Clinic in Turkey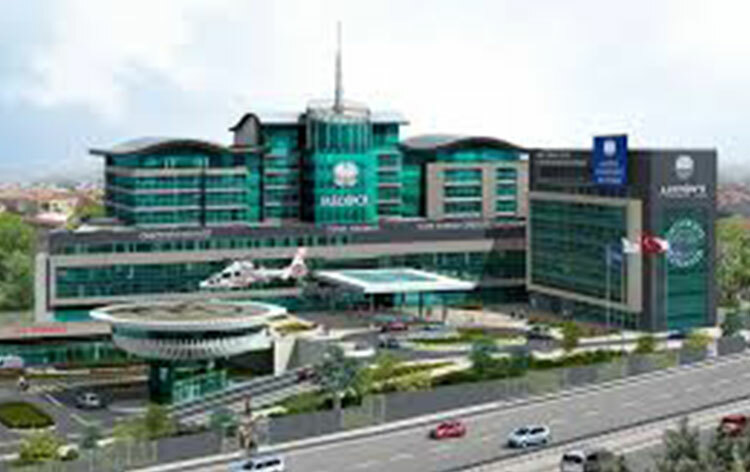 Medipol Mega University Hospital, Istanbul is a premier tertiary medical care providing facility in Turkey that has been certified by world's topmost accreditation bodies – Joint Commission Internation (JCI) – for it high standard of quality medical care.
The hospital offers a broad range of services across multiple specialities under one roof. Hair Transplant procedures at Medipol Univerity Hospital aim to provide permanent solutions to the patients experiencing hair loss due to a variety of reasons.
The University hospital is a teaching facility that combines the vast knowledge of academia and healthcare administration to provide excellent clinical services to the patients.
The hospital offers economical packages for international patients, travelling from different parts of the world to receive quality Hair transplant in Turkey.
They provide a series of facilities for international patients, including accommodation arrangement, transportation from airport, language interpreters, global cuisine and many others.
Aşık Veysel Mah, Süleyman Demirel Cd. No:1, 34517 Esenyurt/İstanbul, Turkey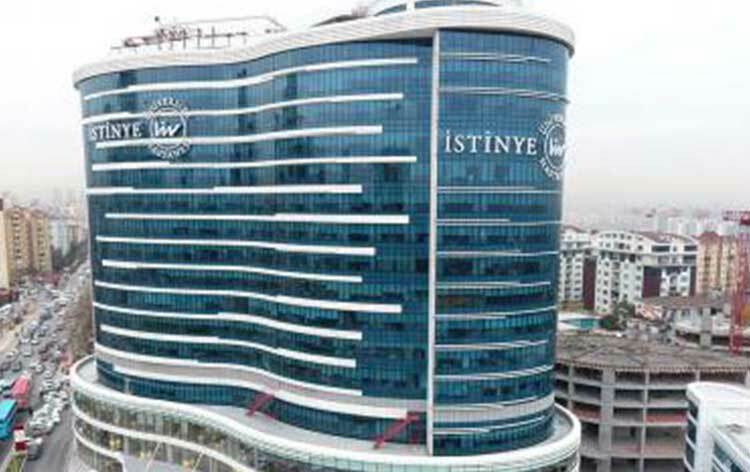 Istinye University Hospital is an establishment of Liv Hospital and Medical Park (MLP Care), the most reputed brands in the healthcare industry.
The 21-floor teaching hospital encompasses an area of 62,500 square meters and provides services across all major medical specialities. The smart building system is a proactive measure to tackle different problems the hospital.
The hospital offers all kinds of techniques for hair transplantation, including Normal FUE Hair Transplantation (Conventional / Unshaved) and DHI Hair Transplantation.
The experts at hair transplantation clinics get complete evaluation before the procedure. After the examination, the doctor determines the suitability of that candidate for a particular procedure and find alternatives in case the candidate does not fulfil the criteria.
The hospital is focused towards individualized care and raising the standard of medical care with cutting edge technology and a team of highly experienced team of doctors, nurses and other staff.
What can cause hair loss?
Hair loss can occur in both men and women. Contrary to the earlier belief that hair loss is an old age problem, many youngsters are increasingly facing this condition.
There are a number of factors that may play a role in hair loss, including genetic predisposition, skin diseases, systemic diseases, exposure to harmful chemicals or drugs, psychological stress, hormone disorders, injury, and surgical procedures.
One or a combination of these factors might be responsible for the hair loss. It is important to identify the underlying causes of hair loss for appropriate treatment. Also, hair loss can be reversible or irreversible.
The cases of reversible hair loss may have growth of hair after the underlying cause such as stress has been removed. So, the type of hair loss is also critical for determining the treatment.
Androgenetic (males) hair loss is the most common hair loss in men. This hair loss occurs due to genetic and hormonal factors and is very rare in women.
The development of patchy bald spots on the scalp is another type of hair loss. A disorder called alopecia areata can be caused due to the abnormality of the immune system. This is usually irreversible, but hair may grow again at some point.
Generalized hair loss is caused due to damage to hair follicles throughout the body. This might happen due to exposure to drugs, stress, diseases of the thyroid gland or other hormonal disorders, malnutrition and after certain surgeries.
What happens during the hair transplantation procedure?
FUE method is a commonly performed hair transplantation technique, in comparison to FUE. It is an innovative technique for hair transplantation that allows the transplantation of the chest and back hair.
During this procedure, a micro motor, with tips of 0.6 – 0.7 mm, is used and it leaves no scar on the nape or the area from where the hair follicles are removed
The advantage of this procedure is that the patient feels less pain after the operation and the recovery is faster. The doctor used local anesthesia before starting the hair transplantation so that the patient does not feel any pain during the operation.
There are several steps in an FUE method:
The hair is cut to be 1 mm long to help in better detection of hair roots in the area from where the hair follicles will be extracted.
If the donor's hair is on the chest, back, or nape, these areas will also be trimmed to cut the hair is 1 mm in length.
Then, the doctor will apply local anesthesia to numb the area so that the patient does not feel pain. The region is then prepared for the operation.
The doctor presses the micromotor tip in the skin to center the hair follicle. The hair will then be removed along with the follicle and the tissue around the hair. This piece is referred to as graft.
The specialist can remove 1 to 3 hair follicles at once using advanced hair transplantation technology, cutting short the overall operation times.
Once the hair follicles are removed, they are immersed in a special solution until the time of transplantation to prevent them from any damage.
The graft size will depend on the width of the area where they will be transplanted and also the adequacy of the donor area. The doctors can transplant approximately 1000-2800 grafts, which means 2500-7500 hair strands, in one session during the FUE technique.
During the transplantation, the direction of hair growth on the scalp and the hair structure of the patient is also considered. The aim of hair transplantation is to give natural-looking hair growth.
After the transplantation, the operation area is dressed with a bandage to prevent external damage from the sun and dust. The patient is discharged after this, as it is an outpatient procedure.